Who should attend?

Building and facility managers and personnel

Industrial hygienists and environmental health / sanitarians

Building design professionals (e.g. architects, engineers, and contractors)

Public healthcare professionals (e.g. epidemiologists and infection preventionists)
The Course - Information
The purpose of the Phigenics course is to enable learners to improve facility water system safety and efficiency.
The scope of the course includes an overview of industry guidance on safety and efficiency in building water systems and a detailed review of the process used to implement improvements in safety and efficiency.
The course is in alignment with published industry standards and guidance including ANSI/ASHRAE Standard 188, the CDC Toolkit, and ANSI/ASHRAE Standard 189.1.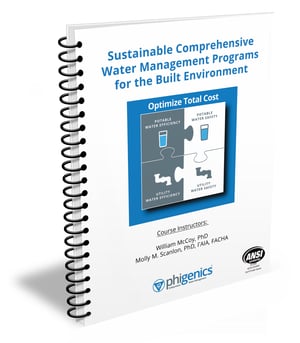 Upon completion of the training course, learners will be able to:
Define a Sustainable Comprehensive Water Management Program

Identify the relevant industry standards and guidance for building water safety and efficiency

Apply hazard analysis principles to determine safety hazards and efficiency opportunities in a building water system

Describe the process for developing a Comprehensive Water Management Program based on industry standards and guidance

Identify what methods are available to control the hazards and realize the efficiency opportunities in a building water system

Develop the documentation necessary for a Sustainable Comprehensive Water Management Program

Describe how to develop program goals for their own building water systems for safety, efficiency, and cost optimization

Define verification and validation of a Sustainable Comprehensive Water Management Program

Explain cooling tower efficiency and how to calculate cycles of concentration

Identify the nine common construction risk factors contributing to the growth and spread of waterborne pathogens in the building water distribution system
Requirements to earn the certificate
Complete the course

Pass the end-of-course assessment
Instructor Qualifications
All instructors have 3 years of experience in the water management industry or an applicable advanced degree.
Fee Structures
Phigenics Event Fees (per registered attendee)
$795 for Industry Professional
$495 for Government, Regulatory or Education Professional
$395 for Contracted Phigenics Client
*Fees must be paid 14 days in advance of the scheduled course. Cancellations and refunds are not permitted, but fees can be applied toward a future training event.
Industry Conference "Partnered Event" Fees
Phigenics offers organizations the opportunity to pair this training course with a related industry event (conference, symposium or summit). As an all-day training, we frequently partner with an organization to offer a course pre-or post-conference to maximize learning and increase attendance to your event. These fees are negotiated rates based on establishing a training agreement with your organization. For more information on partnered courses, please contact Michelle Maher, Marketing Coordinator, at mmaher@phigenics.com.
Custom On-Site Training Rates
Phigenics offers this course and other training to local building owners or as an on-site training for a group of employees within the same organization. Please contact Michelle Maher, Marketing Coordinator, at mmaher@phigenics.com to inquire about course offerings, logistics and fee structure.
What does a certificate from Phigenics mean?
A Phigenics Sustainable Comprehensive Water Management Programs for the Built Environment Training Course certificate holder is equipped with the knowledge that enables them to improve the safety and efficiency of building water systems.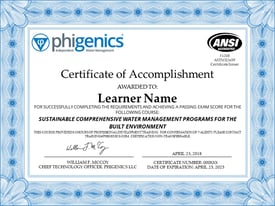 A non-transferable certificate shall be issued to individuals found to meet all Phigenics certificate requirements based solely on the information gathered during the certificate program process. No other factors shall be used to determine an individual's qualification to earn the certificate.
CEUs may be available. Contact your organization for their specific requirements. Sustainable Comprehensive Water Management Programs for the Built Environment Training Course provides 7 hours of professional development classroom training.
Where are we next?
To register for a course click on the event date below.
More Information Coming Soon
FAQs
What can I expect in the course?
This course is intended for those learners wanting to better understand the fundamentals of Water Management Programs, or WMPs (water safety and efficiency initiatives). The course focuses on a 7-step process of administering a WMP (WMP-101). It serves as a primer for those who need to lead, administer or participate on a WMP team within an organization or advise others from a public health agency perspective about how to responsibly manage water systems in buildings for safety and efficiency. The course is not meant to give specific information on waterborne pathogens, at-risk populations or epidemiology. Additionally, this course is not about chemical treatments or products used. It is a neutral learning environment to gain knowledge about WMPs.
Does this course cover Legionella risk management?
Yes. The course covers the use of ASHRAE Standard 188 and the 7 steps of a WMP for safety and efficiency. A WMP is a process that is effective in reducing risk (illness, injury and death) from many waterborne pathogens, including species of Legionella and Pseudomonas, among others. The course emphasizes the process for managing building water systems through hazard analysis and control; it does not cover the history or analysis of any specific pathogen.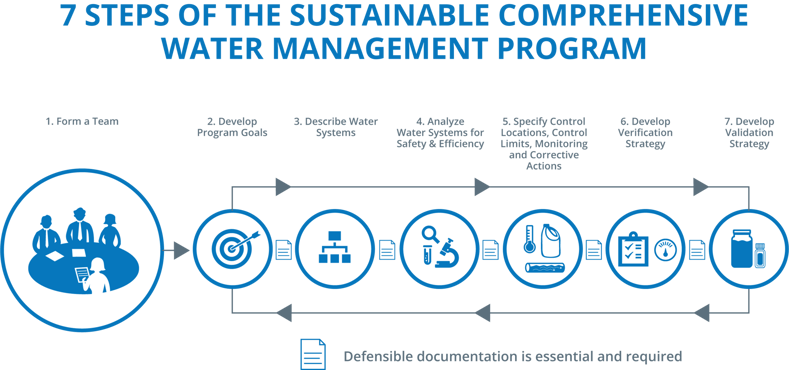 Our organization has properties in the US and other countries. Does the course explain how the World Health Organization (WHO) Water Safety Program compares to ASHRAE Standard 188?

Yes. The course materials and instructor will discuss the similarities between policies and best practices utilized in water management for building water systems. A chart is provided illustrating the alignment of the 7 steps of the WMP process in ASHRAE Standard 188 and WHO Water Safety in Buildings 2011. The course is not primarily about municipal water management systems, which are governed under different types of water authority jurisdictions.
Which standards is the course content based on?
The course uses materials to demonstrate the process of water safety and efficiency from the following standards, policies or best practice documents:
CDC Toolkit (2017)

ANSI/ASHRAE Standard 188 (2018): Legionellosis Risk Management for Building Water Systems
ANSI/ASHRAE Standard 189.1 (2014): Standard for the Design of High-Performance Green Buildings

WHO Water Safety in Buildings 2011
Is lunch provided?
Yes. Because of the full agenda and concentrated time for learning, we include an on-site lunch in the registration cost.
Are the course materials mine to keep and make notes in?
Yes. You will receive a course booklet and a current copy of ANSI/ASHRAE 188 (2018) for you to keep and mark up during and after the course offering. We recommend you bring a writing instrument to make notes and take the examination.
How is the exam graded?
The exam is graded as pass or fail. We do not report to each learner which questions were passed or failed due to the number of learners taking the course.
What type of questions are on the exam?
The exam is 50 questions answered as multiple choice or true/false. All exam questions are covered during the course offering and the exam is "open book," meaning the learner can use the course materials provided to answer any of the exam questions during the 60-minute exam time frame.
What is a passing grade?
A passing grade has been determined by analyzing the assessment questions and determining what score would reflect a learner reaching basic understanding of the concepts.
When and how will I be notified of my final grade?
Each learner will be notified by email within 30 days of completing the exam with notice of a pass or fail grade.
When will I receive my printed certificate?
Each learner passing the exam will earn a certificate. An electronic certificate will be provided via email upon notification of a passing grade. The certificate will be mailed to each learner at the address provided during the registration process within 30 days after completion of the course.
How can I receive a continuing education credit?
Phigenics does not directly provide any continuing education credits (CEUs), and we do not file your CEU documentation. If the course is offered through a partnered conference provider, that organization may commit to accepting the course credits for their organization's CEUs. That will be determined on a case-by-case basis with each partnered conference provider. Additionally, note that most organizations will accept what are referred to as "self-reported" CEUs by submitting: 1) an agenda of the course, which is available in the course booklet, and 2) a copy of the certificate showing you passed the course. It is up to each professional organization to accept or deny your CEU credits (i.e., Phigenics has no control over other organizations' acceptance of CEUs). We suggest you contact your professional organization prior to registering for the course and explore the requirements for "self-reporting" your CEUs to effectively submit your information after completing the course with the correct information to your organization.
Disclosures
Personal information that is collected will be treated as confidential. Personal information includes certificate holder name, address, telephone numbers, emails, assessment scores, certificate status (except for an individual who has achieved a certificate). Confidential information about a particular individual will not be disclosed to a third party by Phigenics personnel (paid or volunteer) or contractor without the written consent of the individual.
The certificate is the property of Phigenics LLC. Permission to use the certificate is granted to certificate holders at the discretion of Phigenics for permissible uses only. Use of the Phigenics certificate is limited to those persons who have been granted the certificate by Phigenics. Use of the certificate by individuals who have not been granted and maintained the certificate is expressly prohibited.
Permission to use the certificate is limited to the certificate holder, and shall not be transferred to, assigned to, or otherwise used by any other individual, organization, or entity.
If it is discovered that unauthorized individuals are using the certificate and contact information can be found, the Training Director or his or her assignee will send cease and desist correspondence. The Phigenics certificate may not be revised or altered in any way. They must be displayed in the same form as produced by Phigenics and cannot be reproduced unless such reproduction is identical to the certificate provided by Phigenics.
Phigenics shall not discriminate or deny opportunity to anyone on the grounds of gender, age, religion, race, marital status, parental status, disability status, status as a veteran, sexual orientation or nationality.
To request accommodations under the Americans with Disabilities Act, for complaints or appeals

,

receive verification and documentation of progress, completion, or to confirm an individual's certificate validity and term, contact:

training@phigenics.com.