Proactive Water and Legionella Risk Management at one of the World's Most Prestigious Clinics
Mayo Clinic Gets Ahead of Legionella
It didn't take a Legionella outbreak for Mayo Clinic to implement a Water Management Program. Facility management and infection prevention specialists at the storied medical clinic took a proactive water management approach to their 150-year old campus that had old plumbing and design issues. The Mayo Clinic engaged Phigenics to facilitate the development of a defensible and comprehensive Water Management Program appropriate for the facility's age and complexity.
The Mayo Clinic program was built using the principles of Hazard Analysis and Critical Control Point (HACCP), which is an evidence-based approach to controlling hazards and hazardous conditions. HACCP principles serve as the foundation for the leading water safety management program safety guidance documents: ASHRAE Standard 188, the Center for Disease Control and Prevention (CDC) Toolkit, the World Health Organization (WHO) Water Safety Plan, Centers for Medicare and Medicaid Services (CMS) 17-30, Veterans Health Administration (VHA) Directive 1061, and NSF International Standard 444 (in development).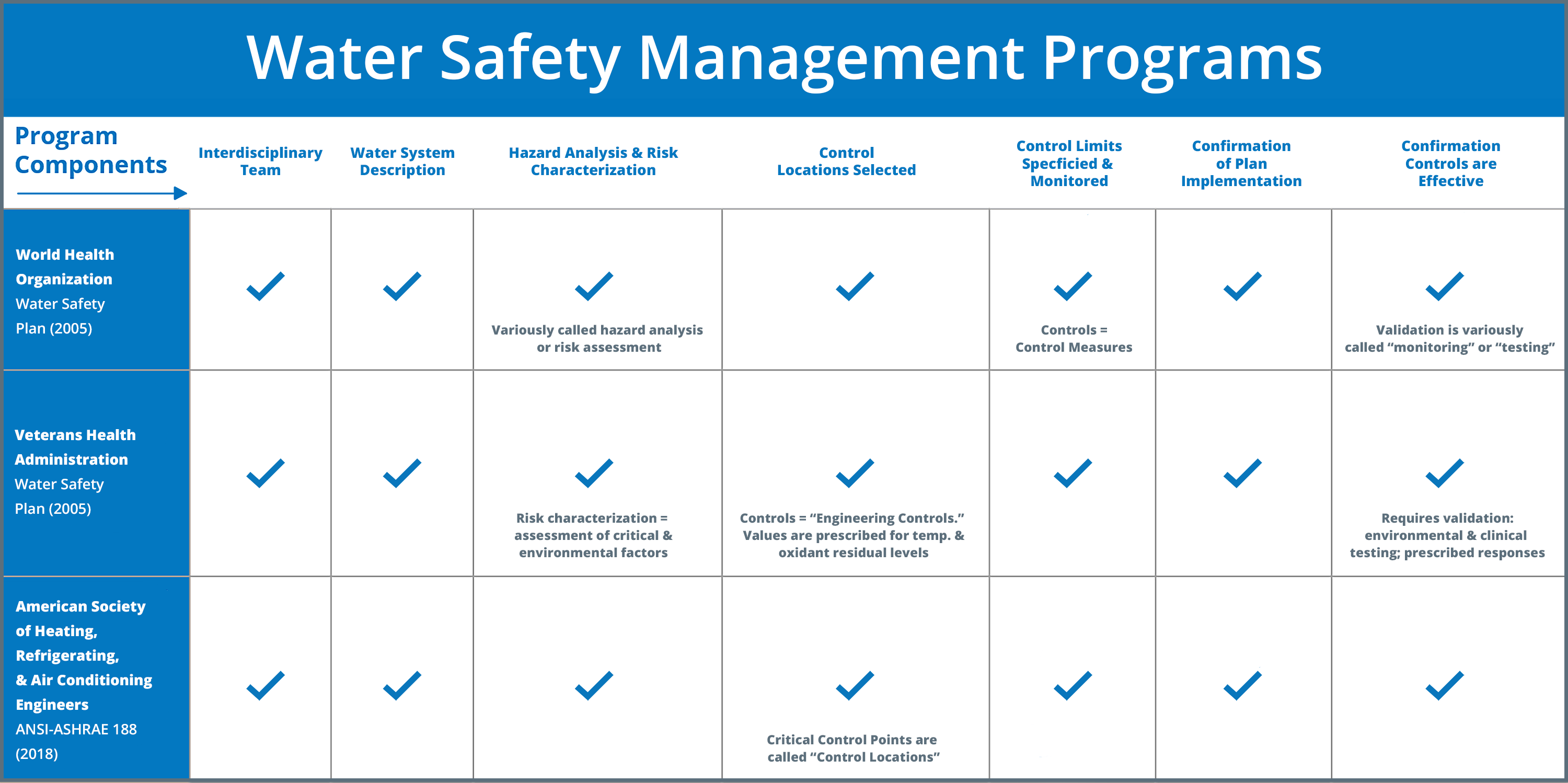 For purposes of this case study, the HACCP process is being summarized; for more details, you can find the full peer-reviewed article here: Infection Control and Hospital Epidemiology.
Corrosion Hits the Main Campus
The Mayo Clinic is a world-renowned healthcare facility. It has a main campus in Rochester, Minnesota and two satellite sites in Arizona and Florida. The Mayo Clinic Health System has 72 locations in Minnesota and Iowa, with 1,000 physicians and 14,000 allied health staff. Patients from all walks of life and around the world travel there for treatment, and within the United States, it is on the leading edge of experimental treatments and difficult cases.
Al Kubly is a Section Head in Facilities Operations for the Mayo Clinic, Rochester, MN. Mayo Clinic, Rochester has a maintenance staff of 234 serving 14.7 million square feet throughout 105 buildings, including two large hospitals, research facilities, classrooms, and laboratories. The Mayo Clinic is 150 years old and by 2007, its age was starting to make itself known.
"We had some flow issues and some design issues," Kubly says, "We have some very old buildings."
It was time to act. Facility management met with infection control professionals and created a process scope that ultimately led to a Water Management Program. Their goal was "to manage the risks to our patients associated with waterborne contaminants, both biological and corrosion related, in potable water systems."
The team established a scope of work and went to leadership for project approval and funding. They engaged Phigenics as a Legionella consultant and Legionella testing company to help them develop and implement a comprehensive and sustainable Water Management Program.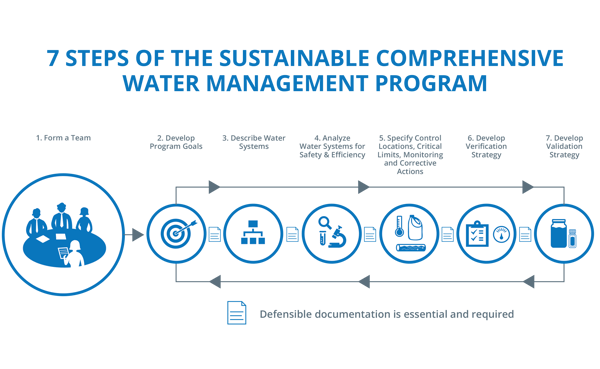 Assembling the Team
After approval, the planning team assembled several working groups within the hospital and outpatient practices in conjunction with specialists from infection control and industrial hygiene. These working groups are comprised of maintenance technicians, supervisors and mechanical engineers who would work through the processes for hazard control.
Next, they created an oversight team with a discipline for everyone involved. In addition to in-house personnel, the Water Management Team included consultants from Phigenics. This team would be in charge of monitoring and supporting progress, clearing a path for hazard control activities, and advancing improvements. It also worked as a liaison with administration and ensured teams were communicating and documenting their work correctly. Ultimately, the program would cover 26 buildings and 7,500,000 square feet, so good leadership was important.
Describing the System and Characterizing Risk
After assembling a Water Management Team and developing program goals, the next step is to describe how water is processed and used in the facility. To accomplish these tasks, the Mayo Clinic created process flow diagrams showing the processing of water throughout each building with each processing step named and numbered. The team then performed a population-based risk assessment, which characterized areas with immunosuppressed patients as very high risk and non-patient areas, like waiting rooms, as low risk areas.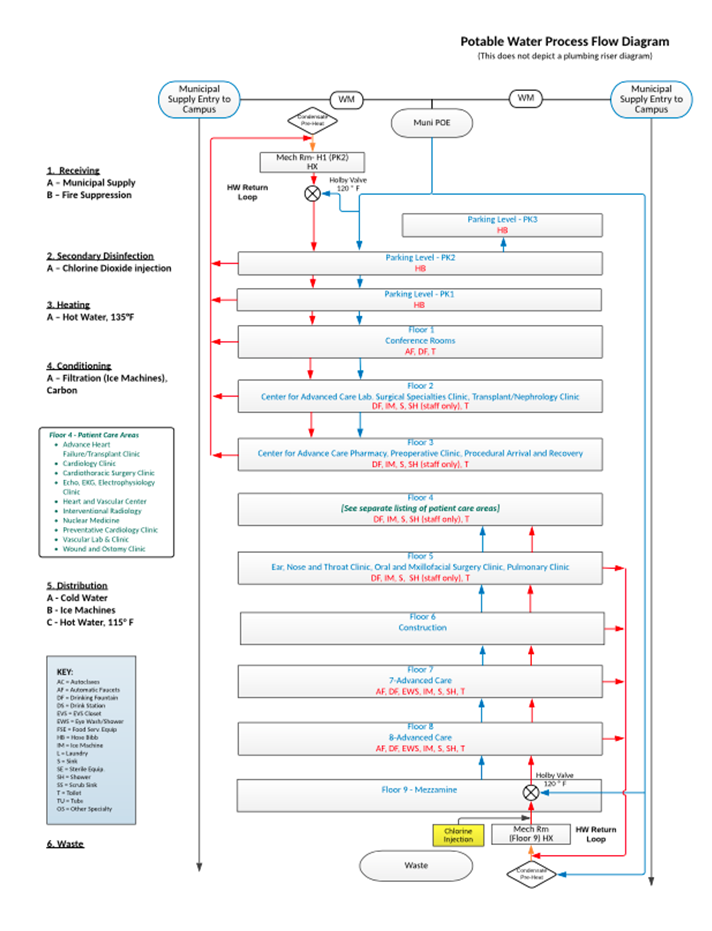 The next step is to perform a systemic hazard analysis. For this step, the team reviewed the flow diagrams carefully to identify hazards, characterize risks as significant or not, and determine if additional hazard control was needed.
The Mayo Clinic Water Management Team identified seven areas as "control locations". To control the hazards in these locations, team members developed control limits, chose monitoring methods, and set corrective actions in advance. For example, the hot water distribution to sinks/showers/sprayers needed to have between 0.2 and 1 ppm of free residual chlorine continuously. To confirm that this was the case, the chlorine added was automatically monitored continuously and technicians tested samples from distal sites with a DPD chlorine test every week. All this data was documented in online logs. If the data indicated that levels at distal sites were out of spec, facilities operation would flush the system until free residual chlorine was in range, then added an additional three minutes of flushing.
Similar procedures were put in place for six other areas, including ice machines, water heaters, and a decorative fountain. All of this information was documented and accessible to
all team members in Mayo Clinic's phiAnalytics Water Management Program website.